FRANKFORT, KY — Gov. Andy Beshear reports 659 new COVID-19 cases in Kentucky on Thursday, and seven new deaths connected to the illness. 
Pointing to case numbers from the past three days, in comparison to those same days last week, Beshear said Kentucky's recent increase in cases appears to be slowing. Beshear said he believes Kentucky is seeing "a leveling off, or at least a significant decrease in the overall escalation of the virus." The governor pointed to the ongoing mandate requiring most Kentuckians to wear facial coverings in public spaces as the reason for that change. 
Beshear said the state's models show cases will first level off before they decrease. He said he hopes that is what is happening, and that, if it is, "it's because we are being really diligent." The governor said once the virus is under control, Kentuckians will have to keep it under control until a vaccine is widely available.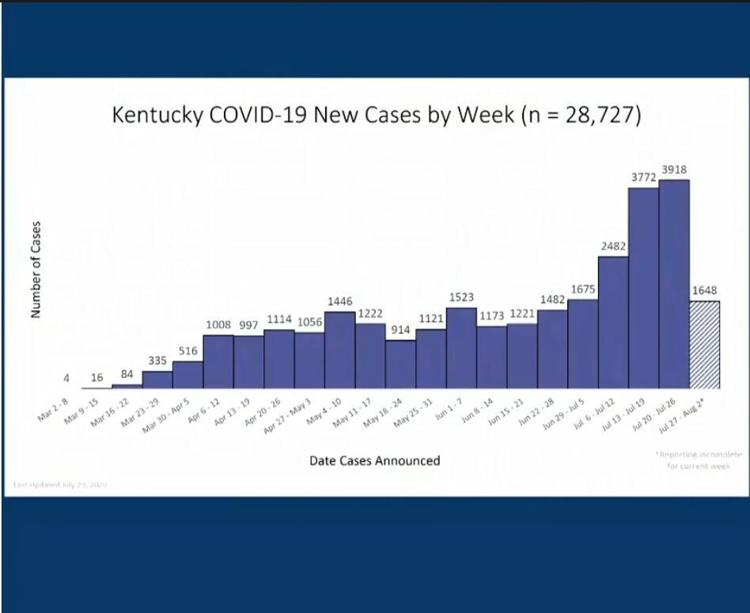 The governor said the state's positivity rate is 5.66% Thursday, down from Wednesday's 5.81%.
The state has seen 29,386 cases since testing began, including 731 deaths. 
Among Kentucky's active cases, 587 COVID-19 patients are currently hospitalized, including 110 in intensive care units. 
Download the document below to see the Kentucky Department of Public Health's nine-page COVID-19 Daily Summary for July 30.