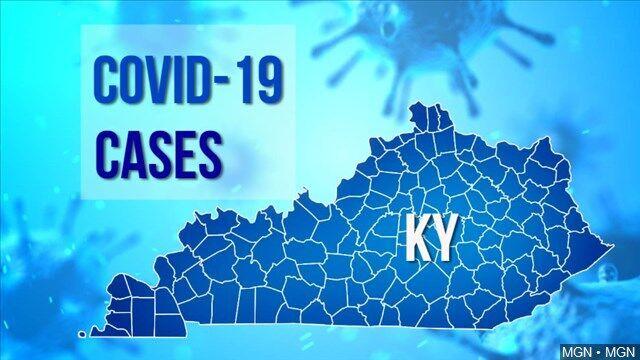 FRANKFORT, KY — The Kentucky Department for Public Health has reported 5,197 new COVID-19 cases Friday, as well as 32 new virus-related deaths. Gov. Andy Beshear said the deaths include a 19 year old from Daviess County. 
Among the new cases reported Friday are 1,443 kids and teens age 18 and younger. 
Beshear criticized the General Assembly's decision to throw out the Kentucky Department of Education's statewide school mask mandate as young people continue to test positive for COVID-19. "The masking decision the General Assembly made was wrong. And it was also a punt," Beshear said.
He stressed that younger people are at risk because of the virus. 
"This week alone, we've reported the death of a 15 year old student and a 21 year old, and today we're gonna' add a 19 year old death from Daviess County to this list," Beshear said.  
MORE DETAILS: Beshear slams Kentucky lawmakers for scrapping mask mandate
Currently, 2,541 Kentuckians are hospitalized with the potentially deadly illness, including 698 in intensive care units and 448 on ventilators. 
The state's positivity rate for COVID-19 test results is 14% as of Friday, and all but two counties are in the COVID-19 red zone. Those two remaining counties, Crittenden and Clinton, are in the orange zone, which means the virus is still spreading at a substantial rate in those communities.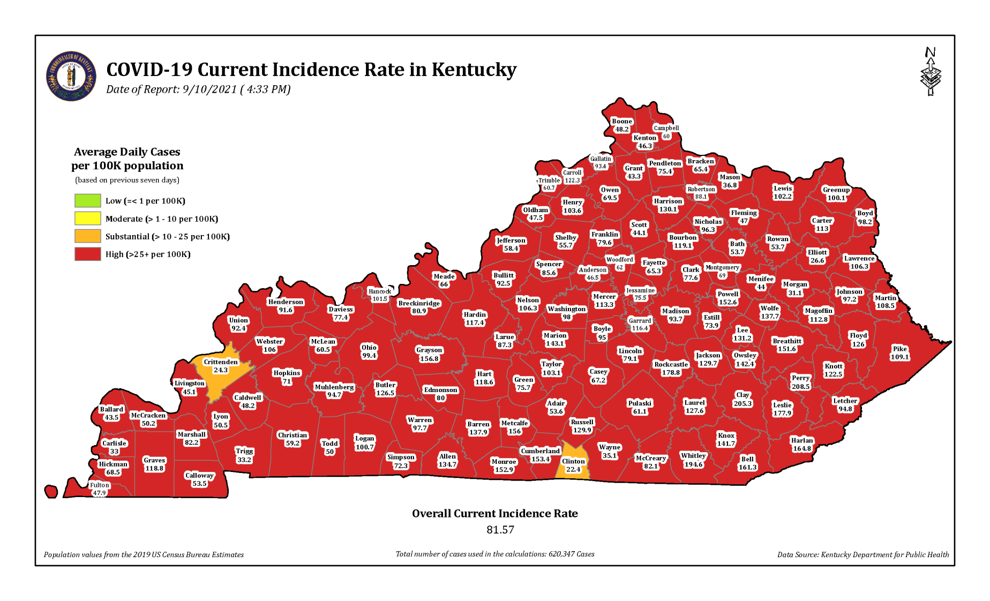 "Folks we are in a dangerous place with COVID-19 right now. The delta variant continues to burn through our population. Day after day we're posting some of the highest new case numbers we have ever seen. Our hospitals are at breaking point. We have 93 total ICU beds left state wide," Beshear said. "And remember, that's what's left despite hospitals opening up more, and more, and more of them every day. We have more Kentuckians fighting for their lives on ventilators — machines — just to help them breathe than ever before. COVID vaccines, they work. Masking works. Those sowing doubt about either, either because they're misguided or simply playing politics, only serves to extend this crisis causing more illness and more death. Folks who do so are also making it more difficult for safe in-person learning and they hinder our economy."
To date, Kentucky has had 620,356 known COVID-19 cases, including 8,003 deaths. 
To date, 2,591,862 Kentuckians have been vaccinated against the novel coronavirus, which is about 58% of the total state population. Beshear has said Kentucky will need to see vaccination rates far surpass 60% to end the pandemic. 
Click here for more information on vaccine providers in the Local 6 area. To make a vaccine appointment from anywhere in the country, visit vaccines.gov. 
Click here to view Kentucky's COVID-19 Vaccination Dashboard. 
Click here for more information about the available COVID-19 vaccines from the Centers for Disease Control and Prevention.