PRINCETON — For Heath Carlton, flying started early — 17 — and navigating the sky empowers him today.
Carlton, 49, earned his pilot's license at 17, owned his first airplane at 18, and shortly after knew flying was not only his passion but a source of income.
Carlton's interest peaked as a teen when his father put the idea in his head and the movie Top Gun was released, influencing him and many other Americans.
His formal training continued into adulthood when he enlisted in the U.S. Navy.
Carlton Aviation formally launched in 2018. He currently provides flight instruction classes at the Princeton-Caldwell County Airport, Marion-Crittenden County James C. Johnson Regional Airport and Kentucky Dam State Park Airport.
In 2018, Carlton decided to invest more time in flying. He joined a flying club based in Calvert City at the Kentucky Dam airport.
Having adult children and being able to work remotely enables Carlton to continue instructing part-time.
Early career pilots were not compensated well enough for Carlton to join in the 1980s and 1990s. He said the market was saturated.
Now, the market is experiencing a shortage of pilots, aviation mechanics, and material costs have increased.
Throughout his pilot career, Carlton has worked full-time. He's a Project Manager for AT&T.
Not only has prices for planes gone up, but the entry-level pay has increased considerably, partly caused by the market contracting, a pilot shortage, and a mechanic shortage.
Carlton said he would have loved the opportunity to train in college and participate in an aviation program like the one at Madisonville Community College — down the street from his childhood home.
He said increased fuel sales through flight instruction trips help offset some of the operational costs of the Princeton-Caldwell County Airport.
"Between flight instruction and having a mechanic and having hangars, you put those three things together, and you could have a thriving airport," Carlton said.
Carlton said support for the Princeton-Caldwell County Airport is only beginning to grow, however, when compared to airports in Marion and Calvert City, it is behind.
Three hangars exist at the airport; Carlton would like to see that number increase. He also is looking forward to the expansion of the runway.
Extending the runway would enable larger and more planes to land, refuel, and lease hangar space, resulting in increased revenue. In 2022, a land acquisition deal is expected to complete in Caldwell County, allowing the runway to expand.
Carlton said his students cannot store their planes at the Princeton-Caldwell County Airport because the three hangars are in use; they are forced to store their planes in Marion or Calvert City.
"In a small community like this, an airport can be a lifeline to bigger communities," Carlton said.
In comparison, Calvert City's airport board received a donation, and with it, they have built additional hangars and expanded fuel storage. Carlton said the investment is worth at least $1 million.
Although the Princeton-Caldwell County Airport is reserved for existing businesses, Carlton said building capacity and increasing assets would incentivize investors. The utility of the airport can evolve and attract opportunities for economic development.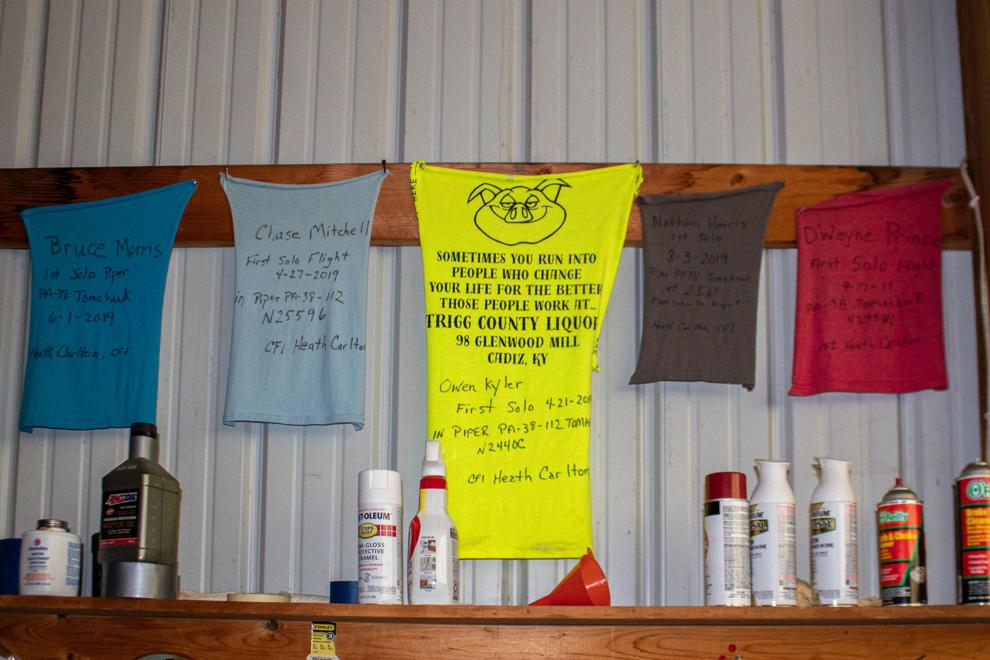 Carlton noted that Henderson, Madisonville, Clarksville, Mayfield, and Murray are sites for flight instruction.
"The ones that are doing it are staying pretty busy," Carlton said.
The airport can create more jobs if development and investment continue, adding more flight instructors and mechanics.
As a part-time instructor, Carlton has six active students — three are on his waitlist.
He plans to upgrade from his Piper Tomahawk to a larger plane to offer commercial flight instruction.
Carlton is equipped to enter a multitude of flight and pilot industries.
"I'm young enough to retire early and have a full second career," Carlton said.