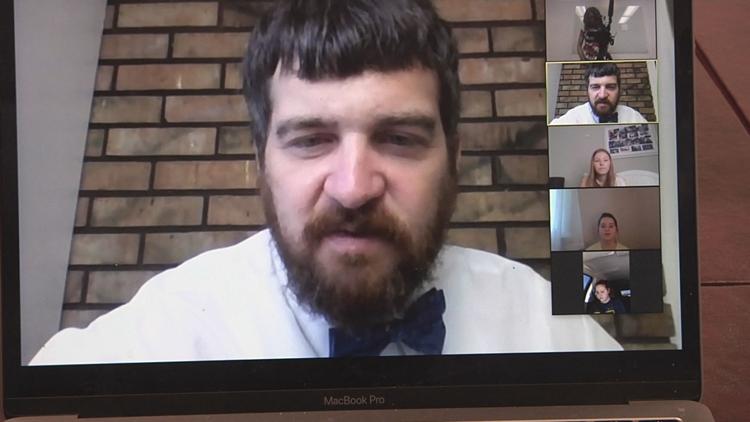 CRITTENDEN COUNTY, KY — Kentucky schools will finish the school year with nontraditional instruction days following a recommendation from Gov. Andy Beshear that all schools remain closed for the rest of the year.
They're planning their online and paper lessons. Local 6 spoke with several superintendents in west Kentucky who say they're prepared for virtual or drive-in graduations for seniors. They're also ready for possible summer coursework to fill the learning gaps. 
Local 6 sat in on a Zoom class with a Crittenden County Middle School teacher to find out how this change is affecting students.
Zoom lessons are the new norm for 7th-grade science teacher Neal Bryant.
"It's definitely difficult," Bryant said. "It's something that we're all getting used to. But I mean, we're definitely growing. Everybody that I worked with, we stay in constant communication with. We're all improving."
Bryant said the biggest challenge is keeping students engaged. Not everyone has Wi-Fi, so it's a challenge to find the best approach to teach the same material for online and paper lessons. He said students really miss the social interaction.
"They're appreciating school and being around people that care about them," Bryant said. "And having that environment that they consistently rely on for encouragement."
Crittenden County Schools Superintendent Vince Clark said they recognize the weeks of NTI days don't add up to in-class instruction. He said the biggest impact will be on younger students.
"We're not able to assess and evaluate student learning at the level that it needs to be evaluated at, and we don't have the structures to do the interventions," Clark said.
Clark said they'll do lots of review work and make sure all students grasp the material. He said knowing how to navigate virtual lessons will be helpful for students down the road.
Clark said Crittenden County's school year has been extended to May 12. And they'll have a virtual or drive-in graduation for seniors on May 22.