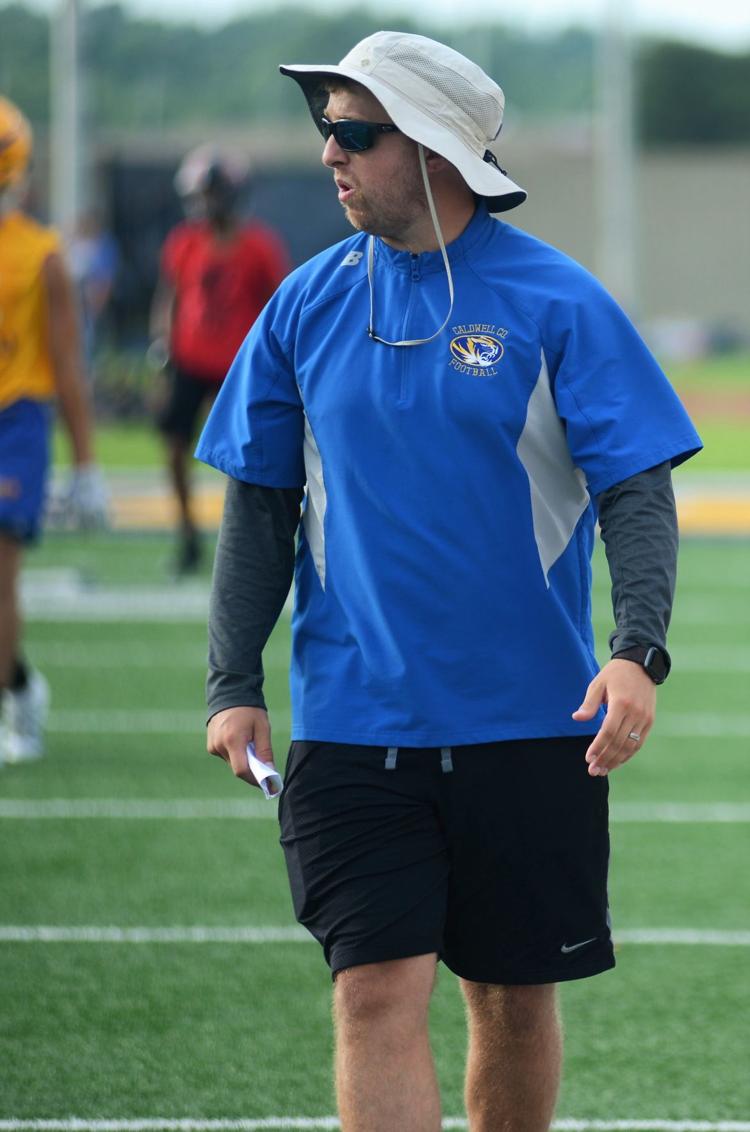 Need someone who can handle a fundraiser for fresh strawberries? Create a workout with groceries or heavy books? Fix an internet connection? All while "social distancing" for the novel, and dangerous, COVID-19 virus?
Text or call first-year Caldwell County football coach Will Barnes, because he's got a plan for all three.
Like many gridiron girders across the state of Kentucky, he's had to improvise this spring — with all KHSAA-sanctioned sports on hiatus until the outbreak is officially and clinically contained. No physical contact. No organized groups. No nothin.'
It's not ideal for a program that returns more than 80% of its roster for what could be a very special 2020 campaign, as these months are crucial for lifting, installing playbooks and organizing a depth chart.
Barnes, however, is keeping things in a bit of perspective.
"We're just missing a lot of lifting time right now, which is obviously really important," he noted. "Hopefully, they're doing some stuff on their own.
"But really, the thing that I hate about it the most — aside from the health aspect of it, and just looking at it from a sports perspective — is our spring sports athletes...they're missing out on a good chunk of their season. I hope that if this stuff gets cleared up, maybe they can get some games in and play. Because it's affected us (in football), but not nearly as much as other spring sports. I really hate it for those guys. Especially the seniors."
Instead of planning workouts in between baseball, tennis and track-and-field, Barnes is trying to figure out how to get nature's sweetest berry to football boosters, how his student-athletes — students first — can secure internet connections in order to complete non-traditional instruction, and how to turn everyday items like gallons of milk and textbooks into resistance weights.
After all, 16 cups of moo-juice weighs roughly nine pounds, while 16 chapters of AP Chemistry is probably another 3-to-5 pounds.
Maybe that'll keep some guys in shape.
"(Assistant) Jeff Riley does a lot of our weight-room stuff...and he's been able to put out a workout that (players) can do at home through Hudl," Barnes noted. "We just put it on Hudl, and it shoots it out to everybody.
"A lot of it body-weight stuff. Pushups. Situps. Those types of things. And then, (Riley) puts in there that if you've got dumbbells or something like that at home, you can do this. If you don't have dumbbells, pick up a book or a gallon of milk or whatever you've got around the house. Just a little bit of resistance. It's things, workouts that they know how to do and that we've done with from January to this point, so they're familiar with it, as well."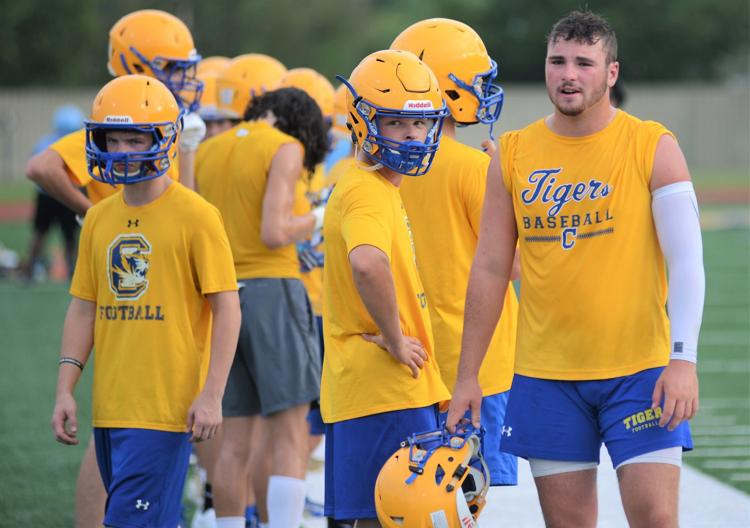 VanHooser vents
In his words, junior hybrid football star Tate VanHooser is doing a "whole buncha nothin' " right now. Not really, but it's how he feels.
And he's one of many Tigers left to his own devices during this forced downtime.
No problem: time for player-organized practice.
"I've got to go throw with my buddies in the backyard now," he quipped. "(But) the team leaders have called a couple of practices, and we've gone to some off-campus fields, and I've kind of run practice then.
"It's different, but you've got to do what you've got to do if you want to play."
Oh yeah. Really different.
"This is the first spring I haven't played baseball...I'm 17 years old...so...15 years?" he said. "It's different, man. I lift, throw a football or throw a baseball every day. I do one of those three every day, and it's been hard. It's been hard, man.
"I saw a thing on Twitter (on Monday), and it said: 'I guess this is what it feels like to be a regular college student.' And in my eyes, I'm just envisioning it like a high school student."
Perhaps the only thing keeping VanHooser's spirits bright is that he and his classmates aren't seniors, and it's a concept that's caused him to have a bit of reflection.
"I'm glad I'm not a senior this year," he added. "I'm not trying to be selfish or anything, but I'm glad I'm not a senior this year. I feel for those seniors. We've got (four) guys on the baseball team (Aaron Cotton, Cody Halub, Trace Lacy, Brian Owen) who are seniors this year, and I'm feeling for them. I'm texting them every day, trying to think about them. 'Let's go throw. Let's go hit somewhere. Let's just not get down.' "